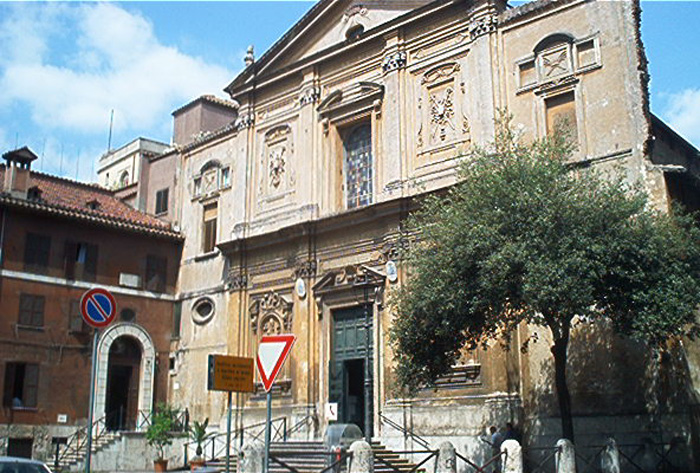 It is a parish and titular church on ancient foundations dedicated to St Martin of Tours, a 4th century monastic founder and
bishop of Tours in France(the present official name is Sant Silvestro e Martino ai Monti).
The earliest churches of Rome were either new constructions built on the sites where martyrs had been buried or the result of changes made to halls in private houses where the first Christians used to meet for prayer. Because the new faith spread rapidly among the ordinary people who lived on the Esquiline hill, this neighbourhood retains many very old churches which in origin were private houses. The basilica was founded by Pope St. Sylvester I over a terrain donated by one Equitius (hence the name of Titulus Equitii) in the 4th century. At the beginning it was an oratory devoted to all the martyrs.
Under the major altar are preserved the relics of Sts. Artemius, Paulina and Sisinnius, brought here from the Catacomb of Priscilla. They were joined by the relics of Pope St Martin I 649-655), who died as a martyr in the Crimea.
The acts of a synod held in 499 mention a church Equitii. The next bit of evidence is from the so-called Fragmentum Laurentianum, written about 516, which records the foundation of a church dedicated to St Martin only, near Sancti Sylvestri. The synod of 595 mention a church dedicated to St Sylvester.Pope Adrian I, in 772, provided for the restoration of a ruined basilica dedicated to St Sylvester, and also for a church dedicated to St Martin. Two churches are distinctly mentioned in some documents, but finally at the start of the 9th century Pope Leo III is described as endowing the diaconia Sancti Silvestri et Sancti Martini. To summarize, it seems that there were two churches here, side by side. It is thought that the aula a sei vani (a 3rd century building)was that dedicated to St Sylvester, and that the present church was originally dedicated to St Martin only. There remains some controversy over the location of the Titulus Equitii. It may have been located under the latter, or at another place in the area.